TOPP Industries, Inc. Announces Major Partnership with Tyler Courtney Motorsports
February 24, 2015
TOPP Industries, Inc. is proud to announce a brand new partnership with Tyler Courtney Motorsports. TOPP is a sponsor of Tyler Courtney's number 23c sprint car for the 2016 season. The TOPP branded car will be making its debut on Saturday, November 7th at the World of Outlaws Nationals in Charlotte, North Carolina.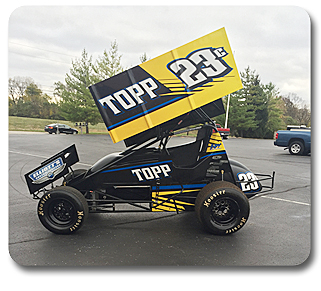 "We could not be any prouder to have our name associated with such a talented team and driver," said Kevin Birchmeier, President of TOPP. "We are excited to be a part of the Courtney Motorsports team and can't wait to see all of Tyler Courtney's success with a great car."

Tyler "Sunshine" Courtney has been racing for 13 years in the World of Outlaws series, United States Auto Club (USAC) National Sprint Car series and the Silver Crown series. In that time he has won three state titles and was named Rookie of the Year in 2012 for Hoosier Auto Racing Fans and Rookie of the Year for USAC in 2013.
About TOPP
TOPP Industries, Inc. is a proven leader in the sewage, sump and wastewater markets, offering a full line of high-quality environmentally responsible products, including fiberglass, polyethylene and structural foam basins, tanks, basin and tank covers, lift stations, septic tank risers, extensions and accessories. For over twenty years, TOPP has been providing quality solutions that make sense and make a difference.
For more information,
contact TOPP Industries, Inc.,
P.O. Box 420, Rochester, IN 46975
Phone: 800-354-4534 or 574-223-3681
Fax: 574-223-6106
www.toppindustries.com
« Back to News